« Previous - Version 6/15 (diff) - Next » - Current version
kaetemi, 04/01/2010 10:19 pm
System unit setup
---
Importing Ryzom assets into recent 3ds Max versions¶
The original Ryzom assets were made in a much older version of 3ds Max than is currently available.
Texture assets paths referred to by the files also need to be stripped off their original network paths.
It is therefore necessary to follow a few steps, in order to correctly use these assets.
This tutorial assumes that you have already setup your 3ds Max environment to work with NeL related graphical content.
If you haven't done so yet, please refer to the instructions for installation of the 3ds Max plugins. (todo: insert link)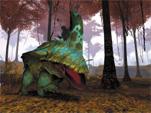 Configuration¶
Setting up the Project Folder¶
In order to make sure 3ds Max can easily find the dependencies of the max file, and to work cleanly, it is recommended to set up a Project Folder. This folder will be used by 3ds Max as your working directory. By default this is a folder under your documents, however you should make a seperate one for every project you work on, so your 3ds Max assets do not get mixed up.
Simply go to File > Set Project Folder, and select the folder in which you want to work.
Configuring the system unit setup¶
It can also be quite useful to have the system units correctly set up, as this will help 3ds Max with configuring the viewport clipping planes, etc. The Ryzom assets and NeL assume a unit size of 1 meter by default.
To change the units, go to Customize > Units Setup. Set the Display Unit Scale to Generic Units. Then click on the System Unit Setup, set it to 1,0 Meters, and disable "Respect System Units in Files" to avoid scaling max files that are acquired from elsewhere.
Importing¶
Extracting assets to the project folder¶
todo
Importing the max file¶
todo
Updating the texture paths¶
todo
Making the textures visible¶
todo